ORDER HOTLINE: 01386 421777
Your one stop solution for Vehicle Conspicuity and Chevrons.

Specialising in Chapter 8 Legislation.
Chapter 8

Welcome to Chapter8highways.
Welcome to your one stop website for all of your Chapter 8 and Vehicle Conspicuity requirements. We supply Chevron backs for any type of Vehicle. The majority of our backs come in kit form that can easily be applied to your vehicles. For more complicated Chapter 8 & Chevron kits, we offer a competitve Nationwide 3M approved fitting service.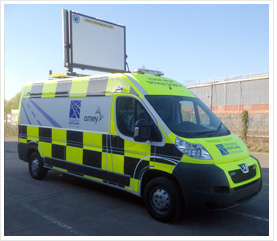 Many of our Chevron kits are also available in Magnetic form. These provide the maximum in flexibility as they can easily be attached and removed.
The Chapter 8 legislation is now a contractual condition applying to all Vehicles being used for Motorway/Highways maintenance work.
We are specialists in vehicle Conspicuity. Already supplying major Blue Chip Companies with their needs.
We can provide you with all of the information needed to ensure that you have the right amount of Conspicuity on your vehicles to comply with, what can seem to be, a very complex set of Regulations. For a breif description of these regulations, you can visit our dedicated page HERE.
We are suppliers of:
Flexible reflective prismatic livery film
Easy application even onto curved surfaces
Reflexite® VC612 Flexibright™ is a tough weather resistant product designed for rugged outdoor use for livery applications on emergency services vehicles. The material is die cuttable and plotter cuttable, and easy to apply onto smooth painted or unpainted vehicle surfaces. The material does not need edge sealing, and is designed to be especially applicator user friendly and flexible, with potentially single piece removability and the possibility to template to far fewer pieces than other prismatic livery films. This allows for damage repairs to be completed quickly.
Reflexite® VC 612 Daybright livery films are soft, flexible and highly visible at night from more than 500 metres away and greatly increases visibility during bad conditions such as rain and fog
Fluorescent colours ensure vehicle conspicuity during daytime, dusk and dawn.
Reflexite® VC 612 Flexibright™ is composed of cube corner (microprism) retroreflective elements integrally bonded to a flexible, smooth-surfaced tough and weather resistant UV stabilized polymeric film. The prism surfaces are coated with a vacuum deposition of aluminium to provide a mirror surface to the prism facets. The resulting material is not more than 0,45 mm thick, and comes with an aggressive high-tack pressure sensitive adhesive.
Reflexite® VC 612 Flexibright™ is available in silver, yellow, red, blue, green, fluorescent lime, fluorescent yellow and fluorescent orange. Available as complete Kits or by the Roll/Metre. POA.
CONTACT US NOW FOR A QUOTE USING Reflexite®.
ECE104 Regulations

New Law from July 2011...
The ECE104 set of regulations became Law in July 2011. ECE104 is a regulation that establishes guidelines for the use of retroreflective safety markings on heavy goods vehicles operating on our roads. The reflective markings clearly outline the rear and sides of the vehicle, making the vehicle highly visible at up to 1000 metres at in low light
conditions.
SPECIAL OFFER for a limited time only ! Rolls of Approved Tape 50mm x 50mm (Red/White or Yellow) @ £120 a roll.
For further details on the ECE104 regulations, visit our dedicated page HERE.
Product benefits include:
• Prismatic reflective performance
• Very high brightness
• Unique handling
• User friendly application
• Ability to conform to demands of vehicle shapes
• Flexible - great for application onto curved surfaces e.g. motorbikes
• Easy to cut and no edge sealing required
• Withstands power washes
• Potential single piece removability
• Templates require fewer pieces
• Extensive warranty
• Full colour range available
• Meets PSDB specifications
For further information/spec sheets: Orafol Europe website
To get started, simply navigate through the vehicle category menus below to begin the process of selecting the chevron kit you require first by choosing your vehicle type. If your vehicle isn't listed, it doesn't mean that we don't supply Chapter 8 kits for it.
Please contact us for a quote for any Vehicles not listed on the website. We are updating our database of vehicles on a daily basis.
Cars.

Saloons - Estates - 4x4s.

Easy to apply Chevron kits, most are also available as Magnetics. Contact Us for details.
Light Commercials.

Vans - Pick Ups - Tippers.

Many of our Chevron Kits are also available in a Magnetic form. Contact Us for details.
Trucks & Miscellaneous.

Gritters, Crash Cushions & all HGVs.

Most of the HGVs are specialised kits and aren't uniform like the Car and Van backs.